As an artist, I'm constantly aware of the effect the fantastic creativity of designers in the fields of architecture and interior design have upon our living spaces. It's all the more so as our cities grow denser, and our home and office spaces more and more need to consider our mental and spiritual well-being, away from the hustle and bustle.
We need a space to recuperate and regenerate, to create and contemplate, to learn and be at peace with ourselves. Good design and art, including music of course, are essential to deliver that environment.
There are so many different media and artists are constantly revealing surprising possibilities like sculptor Chris Fox who recently used the 80-year-old wooden escalators at Wynyard station in a fascinating overhead form. It's just one element that changed the station environment, but helps illustrate the important effect design, partnered with art have on our living space.
My own art is based on a material that has remarkably diverse capabilities, from the most fine and delicate to amazingly robust. Study my piece above, called "Beneath its Reign" and you'll note the contrast between delicate stalks of the Grass Tree, the feathers of the wing and the solid trunk of the tree…..and it's all paper! This example sets a beautiful contemplative mood in this setting and is based on elements of nature sometimes far from reach in a city environment. It is encased in an acrylic box, so it can be lit without obstruction and viewed from all angles.
With great urban design, architecture and interior design, combined with the right art, the living space of the future promises to be a very exciting one.
If you have any enquiries, please feel free to contact me, or visit my gallery at 4/38 Bluff Road, Black Rock, Victoria 3193 Australia. Gallery@papersculptureartist.com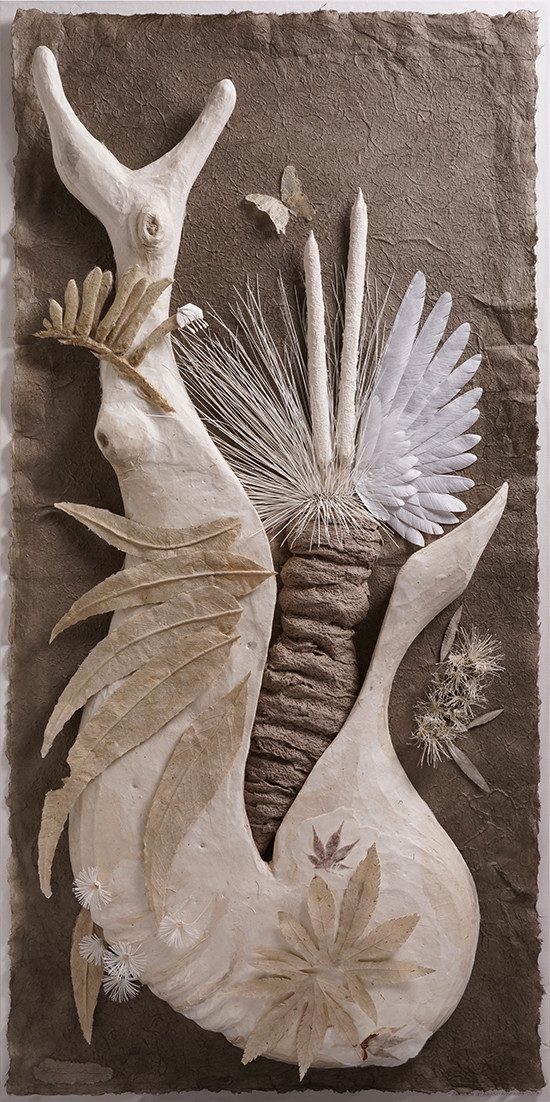 "Beneath its Reign" is created from a range of mostly Asian handmade papers, and uniquely includes some that have real Japanese Maple leaves embedded in the making of the paper. It's a tribute to a beautiful garden local to my gallery dominated by a tall, smooth white-bark Lemon Scented Gum (Corymbia citriodora), the leaves and flowers of which are a feature on the trunk form. In the kingdom of this Gum, is a magnificent Grass Tree (Xanthorrhoea sp.) featured in the middle, a beautiful Japanese Maple represented at the bottom and Bottle Brush (Melaleuca sp.) and Kangaroo Paw. There are of course beautiful birds and butterflies attracted to the garden, the symbols for which are clear.
The art is uniquely encased in an acrylic box so the art can be viewed from all angles. Size: 120 cm H x 60 cm W x 8.5 cm D, (roughly 48 x 24 x 6 inches).