It sounds like a newspaper headline but as far as the use of my paper sculpture goes, this bill board shows a piece that for me is really newsworthy.
Irish International BBDO, is a talent packed, high achieving agency in Dublin. Amongst their team of outstanding creatives is one Clayton Homer, a cool character with a string of significant advertising awards behind him and best known for his brilliant Guinness Soccer Team ad.
Without exception, he is a real thinker outside the square. He wanted to portray the sense of being overwhelmed by bills, and so the connection between storm waves and whirlpools of a rough sea took their form from the envelopes we all know carry to those demands for money.
How was he to realise his vision in a convincing image?
A paper sculpture artwork made from real envelopes! When I received the request I was extremely excited by the challenge but hardly slept for the next week wondering how in blazes I was going to do this! The aesthetic outcomes were critical to me because I wanted to validate Clayton's belief in real paper sculpture as the solution.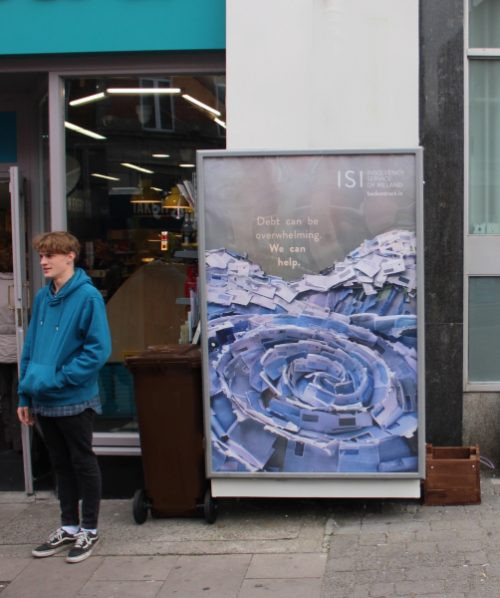 You have to overcome technical before you can realise the aesthetic, so I began as always with a test model to trial answers to the technical challenges, and having proven them, I emailed
What is now obvious is the other part of the significance of this commission: with the help of the digital world, I could relay pictures instantly and talk over the phone half a world away like we were in the same room. It allowed me to confidently proceed with the construction of an artwork that would stand about 1.8 metres, adjust it if something didn't work and then every night my time, morning his time we would talk through the progress.
With the work finished to satisfaction, how do they get an image to print? The photography is a major part of these commissions and another skill on its own. If it not photographed properly, you would never see the depth and drama in the art after all that work. Lighting is everything and all the more tricky, the bigger the art. However, I also discovered for the first time where the limits to my equipment lay, and the sweating started again! This could break everything if I couldn't fix it.
A couple of days of research and experimenting delivered the answers and yet another milestone for me in this project. With all my decades of learning photography, I just discovered a whole new level of capability.
Clayton's idea would only look real enough if it was made from real envelopes. With all the amazing things possible in this digital world, real art made from real material by hand continues to have a relevant and valued place. However, the digital technology helped me to deliver a high resolution image of my 3D paper sculptures overnight, ready to print on 48 sheet posters all over Ireland……..from all the way down in Australia! 20 years ago, that would have been science fiction.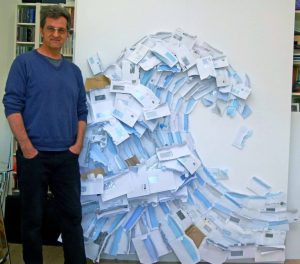 The repeated message: Just come up with the idea and throw it on the table. Sweating's good for weight loss anyway!
The client was thrilled with the result, the agency feeling very proud and I've grown further as an artist (and photographer) and feeling grateful to have teamed with such a far sighted art director as Clayton.